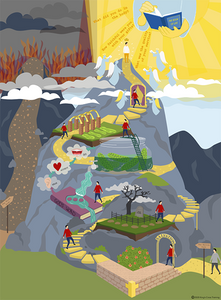 An innovative way of learning and remembering the seven Foundation Stones, the Foundation Stones infographic poster can be used when you are teaching Foundation Stones and is availble in a handy A4 size, ideal for travelling and a larger A1 size.
This infographic depicts the seven foundational doctrines as your Christian journey through life, from the time you get born-again to the moment you stand before Jesus in Heaven.
Who should get this?
Teachers and House Church elders will find this an invaluable teaching tool. Put the poster up when you teach and revise Foundation Stones to help students understand and recall.
Have you seen the accompanying Foundation Stones Infographics for each module?  In addition to the main infographic poster, we highly recommend that you get the individual module infographics as the perfect accompaniment and learning aid for Foundation Stones.