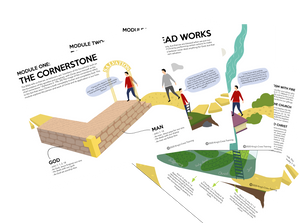 An innovative way of learning and remembering the seven Foundation Stones, the Foundation Stones infographic modules can be used when you are teaching Foundation Stones and is availble in a handy A4 size.
Each individual Foundation Stone has been developed into an A4 page that links back to the visual symbol of the stone from the main infographic poster and includes a summary of the main points of that doctrine.
Who should get this?
Teachers and House Church elders will find this an invaluable teaching tool. Put the poster up when you teach and revise Foundation Stones to help students understand and recall. Order an A4 pack for each student as a take-home gift.
What you get
1 x set (7 pages) of laminated A4 infographic posters 
Don't have the main infographic poster yet?  You can order it here