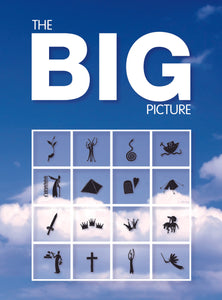 Get to grips with your whole Bible from Genesis to Revelation.
--
The Big Picture will help you to discover that the Bible is one incredible story – about God's plan for man – and that there are startling connections between the different books of the Bible. Most importantly, you'll find out that Jesus Christ is at the very heart of this story – from Genesis to Revelation. This DVD presentation was shot in Bristol, UK, and is designed to be used in conjunction with The Big Picture Participants Workbook.
Please note: This is a digital product. When you make your purchase you will receive a link to the digital videos. 
Each student will need a Big Picture Participants Workbook to follow along with.