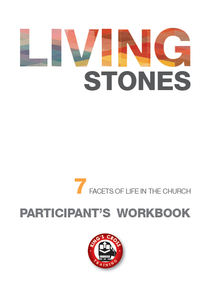 This is the required Participants Workbook for every student of Living Stones.
--
When Jesus ascended to Heaven and returned to his Father, he left a small group of disciples behind. He never intended for those disciples to go it alone without him. Instead, he created the Church and they began to live out a whole new lifestyle in community with one another. Everywhere they went, sharing the Gospel, they encouraged believers to follow the same pattern. Living Stones has been designed to help you to find your place within the larger community of believers called the Church. Not only will you discover how Jesus intended you to live as one of his followers but Living Stones will help you to take up a dynamic and fulfilling role in your local church. In order to register for Living Stones, you must have first completed Foundation Stones.
The Living Stones course runs over 7 two-hour sessions and is ideal for helping believers to understand the Church and the importance of finding their place within the Church.  Students use the Participant's Workbook during the course.
Format: A4, soft cover, printed workbook