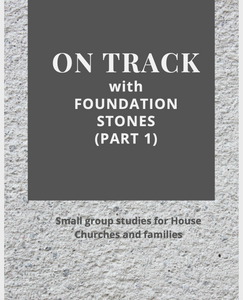 ON TRACK with Foundation Stones is a series of small group Bible studies, conversations and spiritual activities, based on the Foundation Stones course, specially created for use by house church groups. It is also ideal for individuals, couples and families to use at home.
ON TRACK with Foundation Stones consists of 52 bite-size studies, based on the fundamental doctrines of our faith, that you can explore over the course of a year. (Part 1 consists of 37 studies taken from Christ, the Cornerstone, Repentance from Dead Works, Faith in God, Baptisms and Laying on of Hands)  You don't have to do a study every time you meet, but they are short enough to do often, leaving time for prayer, worship, fellowship and the breaking of bread.
Each study also includes detailed notes and guidelines for leading children through the same material in an age-appropriate way.