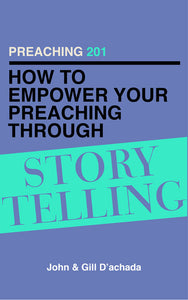 A digital book by John and Gill D'achada
Preaching 201: How to empower your preaching through storytelling is not only required reading for any Tool Kit for Preachers & Teachers student but an invaluable resource for any preacher starting out. In it you'll find the information and practical exercises that you need to add the power of storytelling into your preaching.
--
In our first book in this series, Preaching 101: A Practical Guide to Delivering a Sizzling Sermon, we pick up where our preaching course, The Tool Kit, leaves off. We focus specifically on the nuts and bolts of sermon delivery – from posture to gestures to personal appearance. In this book Preaching 201: How to Empower your Preaching through Storytelling, we explore another vital aspect of preaching. From the scientific evidence for the power of storytelling to how to structure and tell a good story to how to tell the Bible story and use Bible stories successfully in your preaching, you'll find all the information that you need to add the power and potency of storytelling to your preaching tool kit, along with practical exercises to get you started.
Additional information, coaching talks by John D'achada and other practical exercises are also available, for free, on the King's Cross Training YouTube channel.