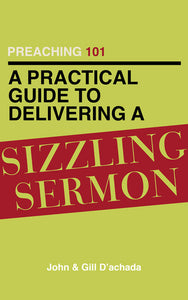 a digital book by John and Gill D'achada
Preaching 101: A practical guide to delivering a sizzling sermon is not only required reading for any Tool Kit for Preachers & Teachers student but an invaluable resource for any preacher starting out. In it you'll find the information and practical exercises that you need to improve your sermon delivery.
--
No-one goes into ministry with the intention of preaching badly. But in our travels around the world, we have met very few preachers who have ever had any formal training in preaching. And even fewer who have had any one-on-one coaching in sermon delivery specifically. It is our hope that this book will go some way towards remedying that situation for you. We've specifically designed it to be a quick, light, practical guide.
In Preaching 101: A Practical Guide to Delivering a Sizzling Sermon you'll find the information, as well as the practical exercises, that you need to improve your preaching style, step by step, week by week, even if you've never had the privilege of formal theological training. From how to use your voice to hand gestures and the art of empathy, this guide will be a go-to resource for your preaching for years to come.
Additional information, coaching talks by John D'achada and other practical exercises are also available, for free, on the King's Cross Training YouTube channel.